It's been a little while since we have done a news update, but we've had lots going on so lots to tell you!
We've welcomed the very Handsome Silver Bullet (AKA Luca) to our Feline Family, who is a gorgeous Silver Spotty. He is an incredibly affectionate boy whose favourite thing is a cuddle and a tummy rub! He's settled in well since coming from his previous home, and we've never known a cat travel so well. Bless him, he didn't make a sound in the car and slept all the way home. He has since been in with Gabriella and Grace and we hope to have 2 happy healthy litters in the next couple of weeks. The girls are so friendly and Luca so affectionate that we're sure these kitties will be the perfect lap cats!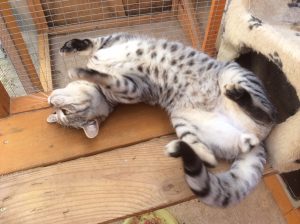 Our Beautiful Silver Arabella Ellie, Daughter of Sargenta Gabriella, has had her first baby! She's been an absolutely wonderful mum, and he is an adorable spotty. He's insanely playful and we seem to spend most of our days watching and filming him. Toys are wasted on him; his favourite thing to play with seems to be mummy's tail, though I'm not sure mummy is particularly impressed with this game.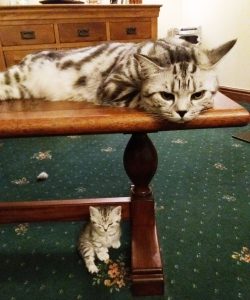 We now also have one of Sargenta Silver Grace's Daughters; Silver Bonnie, who is a very calm and loving girl. She looks so like Grace it's scary! It's so wonderful to be able to look at the similarities and differences between the siblings and mums and their daughters. We look forward to seeing what her kittens will be like when the time comes.
We've had lots of updates on the kittens which have left us for their forever homes. Suffice to say that every one of them is loved to pieces and spoilt rotten! We really do love to hear how they are getting on and to see how they're growing. If you have one of our lovely babies, please feel free to share any updates and photo's with us, they really make us smile knowing how happy they are, and how happy you are to have them as part of your families.
They'll be more updates to come once our little ones have arrived, so watch this space! In the meantime, you can watch our facebook page for any news and, of course, very cute photos